Installing ROM on some smartphones can be confusing likewise hard as a result of its chipset.
Installing a rom on a MediaTek smartphone is sometimes easier than installing a stock rom on a Qualcomm Snapdragon chipset smartphone.
Today, I am going to guide you on How to install ROM with Qualcomm Flash Image Loader (QFIL).
QFIL is a PC tool for Android specifically meant for flashing or installing stock rom on Android smartphones.
Half of the Android smartphones in the market run on Qualcomm snapdragon which means that with this tool, you can flash as many smartphones as you wish.
Let us proceed.
Before we get started, I will tell you one thing, the reason why most rom installation fails is that the user must have missed one of the requirements.
What that means is that if you did not follow the guide carefully or if you miss one of the files or requirements, there is a chance the installation will fail.
Let us start with the requirements.
Requirements to install  ROM with QFIL
A PC/Laptop in a good working condition
A detectable USB cord
Qualcomm Flash Image Loader (QFIL)
Charge your phone to 30% up
Your smartphone's device driver
After you have gotten all the required files and tools, the next is to proceed with using Qualcomm Flash Image Loader (QFIL) to install rom.
Before proceeding, certainly, ensure your PC is charged or your computer is connected to a power source that won't go off.
I won't want you to brick your device and I know you won't want that too.
How to install ROM with Qualcomm Flash Image Loader (QFIL)
After you have downloaded all the files like the drivers and ROM, the first thing to do is to extract them.
Extract Qualcomm USB driver to your desired folder on your PC.
Install the drivers, you can reboot your PC after installing the drivers. it's optional.
After installing the drivers, extract the ROM you wish to install.
Extract QFIL and launch the QFIL.exe program, you will the screen below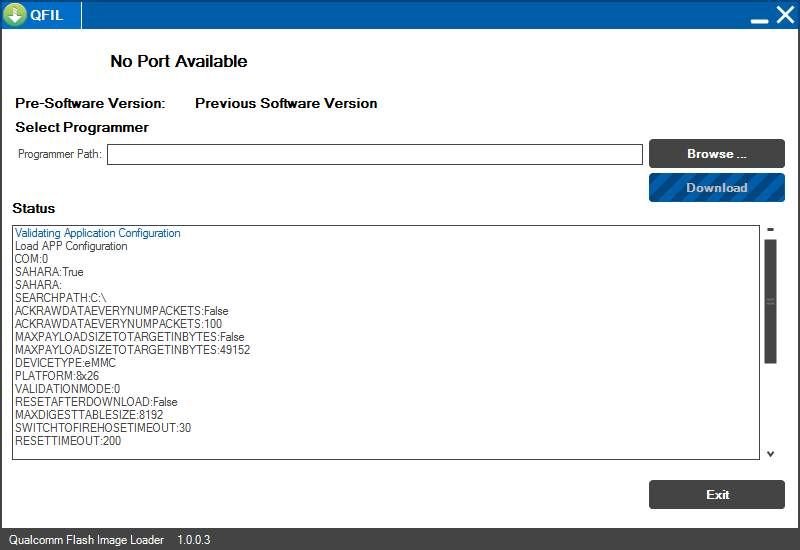 On QFIL, click on browse to locate the firmware you extracted for installation.
QFIL flashes/install .mbn extensions, this means that you have to locate the .mbn file in the folder.
Once you have located the rom file, you will get the screen below
Click Open for QFIL to launch the files and ready them for installation.
Now, power down/off your phone and connect it to the PC.
Click on Download to begin installation or flashing.
Installation usually takes time like 5-10 minutes, likewise first boot after flashing your phone.
Wait for it to successfully install and after installation, disconnect your smartphone and boot up the phone.
Conclusion
Just like I said in the beginning, some factors can make this method not work for you.
You didn't properly install the drivers
The USB cord can charge your phone but it doesn't detect on PC.
You are flash the wrong rom to your phone.
There might be other factors but the listed ones above are usually the major cause.
Fix them are you are good to go.
If you experience any difficulty install ROM with Qualcomm Flash Image Loader (QFIL), drop off a comment below.